BOOKS IN MOVEMENT 2018

The itinerant literary review Books in movement  is an event conceived and promoted, in a coordinated network strategy, by cultural associations operating in the Brescia area.
The Zero Negative association will be involved in the review giving life to the words of some authors, intervening with some dramatizations.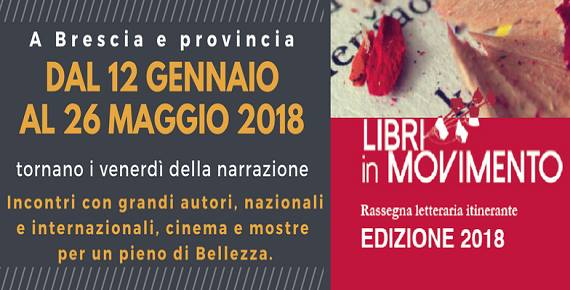 The usual appointments, always on Fridays, with national and international authors, are added a film festival, with a monthly meeting dedicated to the main theme, on Thursday at the Municipal Library of Concesio, curated by Video Amici of Cinema Sereno and a space Biblio / cinematographic exhibitions and studies at the Queriniana Library of Brescia. But other extraordinary events are coming ...
The topics covered in this edition are:
 - Walls, in January;
- Metropolis, in February;
 - Languages, in March;
 - Nourishments, in April;
- Metamorphosis, in May.