PUBLIC SPEAKING

The Zero Negative Association proposes a practical-theoretical path that goes beyond words to examine personal communication and provide communication tools that can be used daily on the job and in private life.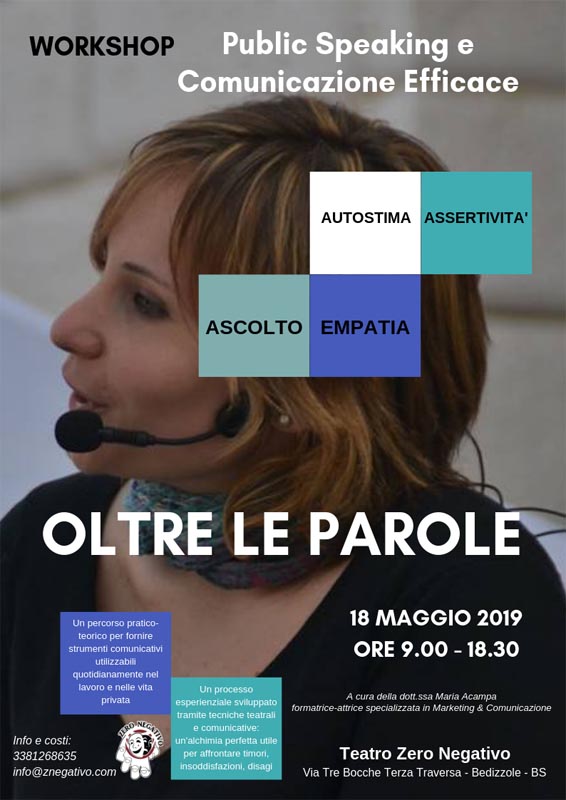 An experiential process developed through theatrical techniques that together with the communicative ones produce a perfect alchemy to face fears, anxieties, dissatisfactions, discomforts, frustrations.
A workshop edited by Dr. Maria Acampa trainer-actress specialized in Marketing & Communication where you will work on self-esteem, listening, empathy, assertiveness to make your way to communicate effective.

TO WHO?
To those who are often in front of an audience for work or leisure.

To those who beat strong their hearts, sweat their hands and shake their voices because the thought of the fear of making mistakes torments us.

To those who want to experiment, improve and remove those conditions that limit the freedom of expression.
WHY?
To gain confidence and overcome the fear of public speaking.

To attract the attention of your interlocutors.

To best use the tone, the pauses, the rhythm.

To manage body language (look, posture, attitude).

To get a functional communication to your goals
PROGRAM
9.00 reception and registration
 9.30 start of the workshop
 11.15 coffe break 13.00 lunch break *
14.00 workshop resumption
16.15 coffe break
18.30 closing work and delivery of certificates.  
 At the end of the workshop a certificate of participation will be issued.
Packed lunch. There is the possibility of stopping for lunch in the host structure.